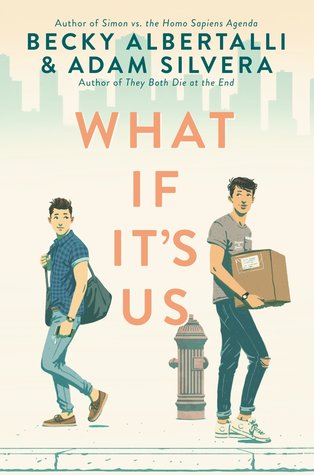 What If It's Us by Becky Albertalli & Adam Silvera
Arthur is only in New York for the summer, but if Broadway has taught him anything, it's that the universe can deliver a showstopping romance when you least expect it.
Ben thinks the universe needs to mind its business. If the universe had his back, he wouldn't be on his way to the post office carrying a box of his ex-boyfriend's things.
But when Arthur and Ben meet-cute at the post office, what exactly does the universe have in store for them?
Maybe nothing. After all, they get separated.
Maybe everything. After all, they get reunited.
But what if they can't quite nail a first date . . . or a second first date . . . or a third?
What if Arthur tries too hard to make it work . . . and Ben doesn't try hard enough?
What if life really isn't like a Broadway play?
But what if it is?
It means it's seven thirty on a Saturday night, and I'm four stops away from the first act of my love story.
In case you hadn't noticed, I have been screaming about this book for the last… year, maybe? As soon as it was announced, I knew I would love it. I was even more convinced when I read the synopsis and saw the cover. It showed up at my house and I immediately locked myself in my bedroom and started reading. I wish I could've just read straight through, but ugh, work. 🙄
I don't even know where to start because I just loved this book so much.
I loved Arthur. I want him to be my best friend and go to musicals with me.
I loved Ben. I want him to be my other best friend and go to Lorde concerts with me.
I loved Arthur and Ben together. They were so cute. SO CUTE. I am almost crying right now thinking about how much I love them.
There were so many things that happened in this book that I related to.
"Who is he? Name. Address. Social security number. Twitter and Instagram handles." ACTUALLY ME WHEN MY FRIEND MEETS SOMEONE, OKAY? ACTUALLY ME. (Also my friends when I'm hanging out with someone new.)
"Just write a post that describes the moment, like, Hey, we met at the post office and made out inside a mailbox, so on and so forth." ALSO ACTUALLY ME WITH THE EXAGGERATIONS, I CAN'T HANDLE IT.
ARTHUR'S DAD'S POP CULTURE REFERENCES!! MY SO-CALLED LIFE! THE BREAKFAST CLUB! ACTUALLY ME!!!
He flings his arms around me before I can say hello, and now he's just standing here hugging me like a cobra. THE MOST ME SENTENCE I HAVE EVER READ IN MY LIFE, THIS IS ME IN ONE LINE
Honestly, I have 29 quotes flagged in this book and I could keep going, but I'm going to stop now. Well, almost. Can I also say that I really want to read Ben's book? I need it in my life. Can Becky and Adam publish that next, please??
Anyway, in summary:
Five stars 🌟🌟🌟🌟🌟
Five hearts ❤❤❤❤❤
Five sobbing emojis 😭😭😭😭😭
I loved this book so much.
---
Have you read What If It's Us?
What am I supposed to do with my life now that I've finally read it?
Let's talk in the comments!
---
Find me all over the internet: Goodreads | Twitter | Bloglovin'